---
---
Last Update: 06/01/2021 - My Email: bill@k8veb.com
---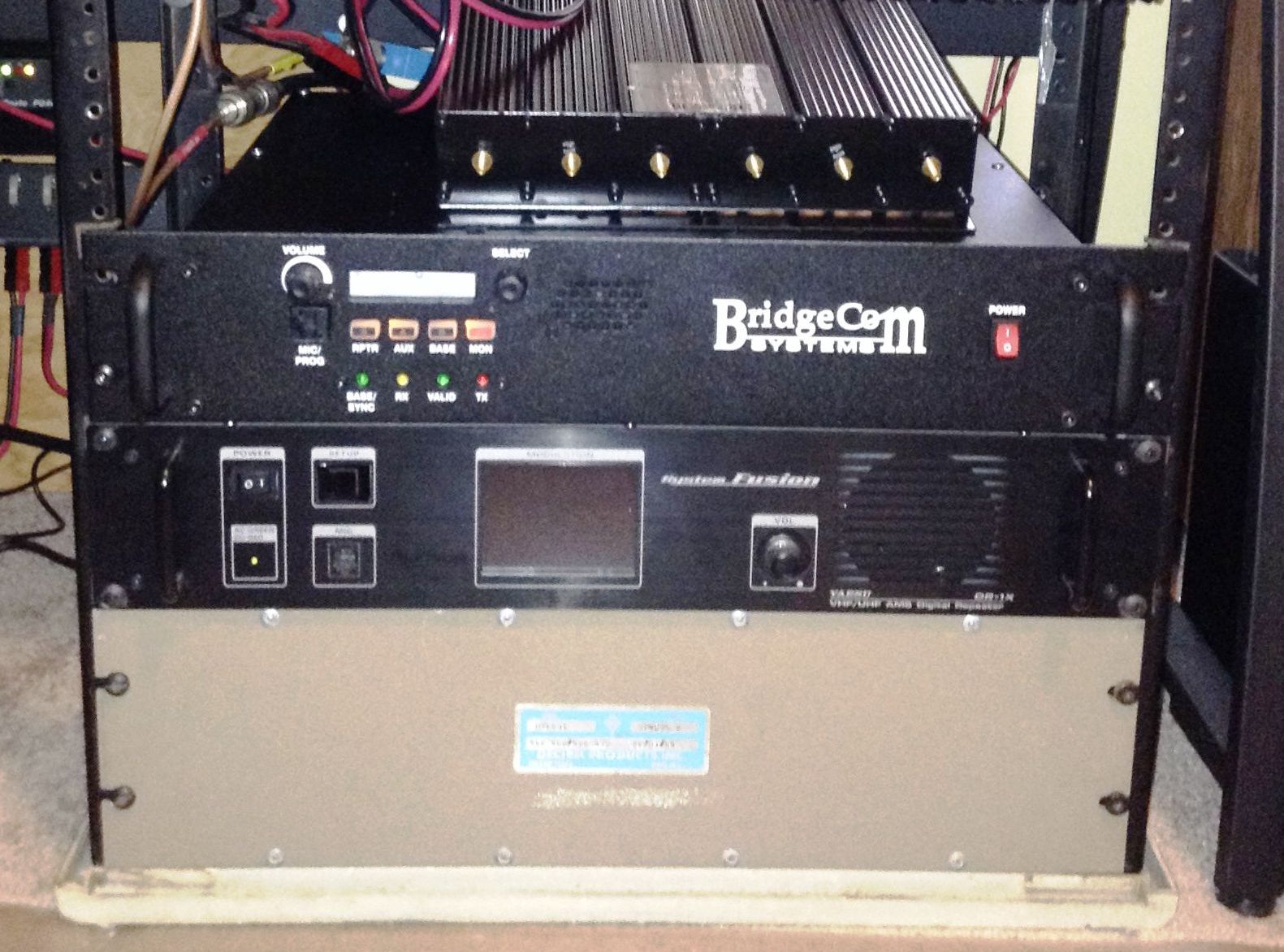 443.350 MHz Repeater and Duplexer
The K8VEB 443.350 repeater (analog/digital) went on the air June 20, 2014.

Yeasu DR-1X - Analog/Digital Repeater - Quick history of the K8VEB 443.350 MHz repeater. The first repeater system was a Midland UHF 10 watt desktop repeater with internal controller. The antenna was a Ringo Ranger up about 20 feet. Coverage range was 3-5 miles. The second repeater was the Kenwood TKR820 running 10 watts to Motorola duplexer then to the Diamond X500 up 50 feet. The controller was a CAT 300DXL, RLS 1000 remote base board, Audio delay and Digital voice Recorder. We used the system as a repeater/remote base and Echolink systems. The coverage was 8-11 miles. Jeff N8HEE gave me a Motorola MSF5000 repeater. I had Brian KB8QWJ align and tune the repeater to my frequency pair. The repeater is running 40 watts out of the duplexers to the Diamond X500 on the tower at 50 feet. The coverage area was 15-18 miles. We installed new LMR400 coax and replaced the X500 with the Super Station Master. Thanks to my Son Kim (WA8KIM) and Timber Tree Service for the tower work in the Cherry Picker! The coverage was 17-24 miles. Over time we noted a decrease in range, we found out that there is water in the coax and the pre-amp on the MSF5000 went bad. I wanted to update the system and go digital, so I bought the Yeasu DR-1X repeater. The DR-1X went on-line on June 20, 2014. Replaced the Motorola band pass cavities with Decibel Products band pass/reject cavities. Replaced the LMR400 with 7/8 hardline.
Bottom of the rack is the 440 MHz DB Products duplexer. Next unit up is the Yeasu DR-1X 443.350 MHz repeater. Next unit up is the Bridgecom 224.66 MHz repeater and on top of that is the Bridgecom 224.66 duplexer.